The #1 College-To-Career Curriculum for the 21st Century Global Economy
Required text for 3,000+ students at Cornell's Johnson School of Business & Indiana University's
About The Innerview
The Innerview covers everything a college student needs to do before their first big interview for an internship or full-time job to help them answer the questions:
* What do I want to be when I grow up?
* What's the purpose of work to me?
* What am I passionate about and what careers align with my passions?
* How do I use my time in college to prepare for my desired career?
The clearer an individual is on these questions before going into an interview, the more likely it is that they will ace their interview.
Features
* A 250-page workbook for students with homework assignments
* 8 Lecture slides and notes for professors
* 8 Lab slides and activities for deeper exploration
* Co-written by Keith Gelarden Dayton, Business school professor at Indiana University's Kelly School of Business and Jullien Gordon, a thought leader on the millennial generation & 21st century workforce
* Tons of 21st century and recession proof career strategies


Benefits
Ready-Made Assignments: Professors don't have to make up assignments. All they have to do is choose from the 50 ready-made assignments.
Pre-Made PowerPoints: PowerPoints on resumes, cover letters, networking, job searching, and interviewing are ready to go with presenter notes. You could give a lecture in moments.
Experiential Labs: In addition to lectures, students need experiences that allow them to deepen their understandings from lectures. The labs include role plays, activities, and discussions that complement the lectures.
More results: Throughout this process you will create your D.R.E.A.M. catchers which include resources such as your cover letter, Résumé 1.0, Résumé 2.0, business cards, website, personal board of directors, and more. Collectively, these deliverables will provide you with everything you need to enhance your interviews and advance your career.
Less text: Whatever text we do have, make sure that it is unique and not something that can easily be found online.
Way cheaper: We want to position you to increase your financial capital, not shrink it. Our workbook is $20 cheaper than the next best thing on the market.
More exercises: We call this the innerviewing process. Most people skip it and go straight to the interview, but knowing who you and what you want and don't want is the key to great interviews.
More action: Each section includes actionable challenges that you can do immediately to move your career exploration process forward.
More results: Throughout this process you will create your D.R.E.A.M. catchers which include resources such as your cover letter, Résumé 1.0, Résumé 2.0, business cards, website, personal board of directors, and more. Collectively, these deliverables will provide you with everything you need to enhance your interviews and advance your career.
Better Branding: As your school's job offer rate and average starting salary increase over time, your brand will attract higher quality students because they know that they will get an immediate return on their investment upon graduation.
Increased Alumni Giving: In the long-run, an investment in student's careers will translate as greater alumni giving due to their satisfaction with their career and you being a direct cause and their increased income.
Jullien Speaks on The Innerview at Indiana University
"Only one-quarter (24.4 percent) of 2010 graduates who applied for a job actually have one waiting for them after graduation"
More On Innerviewing
Innerviewing is an internal process and defines communication between you and your authentic self. It requires knowing who you are, what you want, and why. Interviewing is an external process and defines the exchange where two parties are interacting to get to know each other better. It requires that both the company and the individual innerview to explore what they truly want so that they can determine if there is interest. Great interviewing is preceded by great innerviewing—your discoveries about yourself, your desired career path, and the company prior to the interview will be captured in your résumé, cover letter, 30 second pitch, and interview answers.
Interviewing is natural after you've properly innerviewed, but innerview isn't taught anywhere—instead of self-discovery being a direct result of higher education, it's oftentimes a derivative. The world has shifted drastically and in many ways college hasn't caught up. Therefore, there are some challenges that come along with this huge shift in your life. A good GPA and good personality used to be all you needed to get a good job, but today that isn't the case because a GPA is only a correlative measurement for how hard of a worker you are. In many instances it measure how much you think within the box rather than how much you think outside of it. In the box thinking has led us into the economy we are in today where unemployment rates hover around 10% and only 25% of college graduates are graduating with a job in hand. Out of the box thinking is the only thing that is going to get us out of this mess and revive our hopes and dreams.
"Half the 571 college graduates surveyed are working a job that did not require a bachelor's degree, while 14% are unemployed or are employed part-time and looking for full-time work. Many people said if they could go back they would do an internship, start looking for work before graduation, use the guidance center at college or pick a major where there are more jobs."
Course Objectives
The goal of the course is to help students prepare to land their D.R.E.A.M. job before graduation. To D.R.E.A.M. means to have your Desired Relationships Employment And Money. In order to achieve their D.R.E.A.M., students will create their D.R.E.A.M. Catchers which include their resume 1.0, resume 2.0, cover letter, interview answers, personal board of directors, website or blog, and updated LinkedIn.com and Facebook.com profiles.
The course is organized into the following 4 modules:
Module 1: Create Your D.R.E.A.M. Life (career & life visioning, financial plan)
Module 2: Attract Your D.R.E.A.M. Career (resume, cover letter, social media, personal branding)
Module 3: Build Your D.R.E.A.M. Team (networking up, across, out, and online)
Module 4: Land Your D.R.E.A.M. Job (job search, interview, follow up, negotiation)


Table of Contents
Authors
Jullien Gordon
aka The PurposeFinder is the main author of The Innerview. He is committed to helping college students D.R.E.A.M. awake in a time where the American dream is fading and changing for the millennial generation. D.R.E.A.M. means having one's Desired Relationships Employment And Money. As CEO of the Department of Motivated Vehicles, he spends his life speaking to college students about leadership, college success, goal setting, time management, and career readiness. In 2007, Jullien received two masters degrees from Stanford University—his MBA and Masters in Education—and in 2003 he received his B.A. from UCLA in 3 years.
Keith Gelarden Dayton is a senior lecturer and the MBA Core Coordinator at Indiana University's Kelly School of Business and was a key contributor to the curriculum design process for The Innerview. Besides his tremendous experience and expertise in teaching management and organizational development courses, Keith is truly dedicated in helping Kelley undergraduate business students make the most of their education by building careers that are financially and personally rewarding. Keith has revamped the content for the 2 career development courses (X220 and X420) that are required for Kelley students to take. In 2007, he was won the Indiana University Student Choice for Outstanding Faculty.
College Student Career Statistics You Should Know
College Grad Career Regrets


Grad Unemployment


Grad Debt


Global Youth (15-24) Unemployment


Top Industries
* For class of 2011 When asked to choose their top-three preferred industries for a job, 27.7 percent of responses indicated professional services, followed by 24.3 percent for education and 20.1 percent for both government and healthcare. (source: naceweb.org)
Social Media
* Facebook dominates the social networking landscape for college students—nearly 91 percent of responding seniors indicated they have a profile—but less than one-quarter use Facebook as a job-search tool. (source: naceweb.org)
* Conversely, though fewer students report having LinkedIn profiles (31.5 percent) or Twitter accounts (22.7 percent), they are much more likely to use them. (source: naceweb.org)
* Nearly 70 percent of those with both a LinkedIn and Twitter account use them in the job search. (source: naceweb.org)
College Graduates
* About 1.5 million, or 53.6 percent, of bachelor's degree-holders under the age of 25 last year were jobless or underemployed, the highest share in at least 11 years. In 2000, the share was at a low of 41 percent, before the dot-com bust erased job gains for college graduates in the telecommunications and IT fields. Out of the 1.5 million who languished in the job market, about half were underemployed, an increase from the previous year. (source: The Atlantic)
* NACE's 2010 Student Survey shows that nearly one-quarter (24.4 percent) of 2010 graduates who applied for a job actually have one waiting for them after graduation. In comparison, just 19.7 percent of 2009 graduates who applied for a job had one at this time last year. (source: naceweb.org)
*Half the 571 college graduates surveyed are working a job that did not require a bachelor's degree, while 14% are unemployed or are employed part-time and looking for full-time work. Three out of every four people polled said they would have done things differently while still in college. (Source: Carl Van Horn, a professor of public policy at Rutgers University)
* In September, employers projected hiring 13.5 percent more new graduates from the Class of 2011 than they hired from the Class of 2010. Employers responding to NACE's current survey upped that increase to 19.3 percent. (source: naceweb.org)
Unemployment by Degree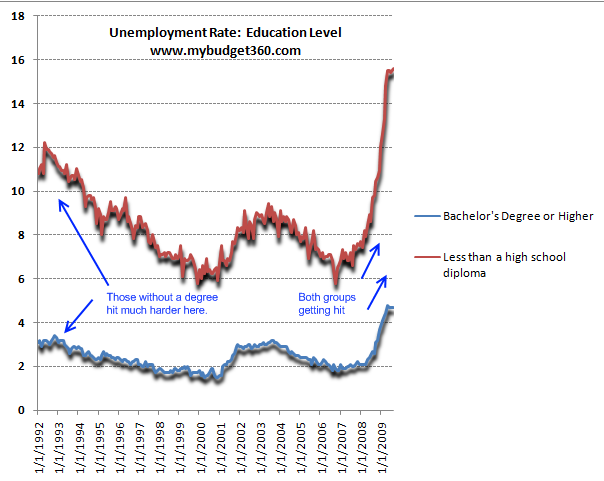 (source: MyBudget360.com)
Student Loan Delinquency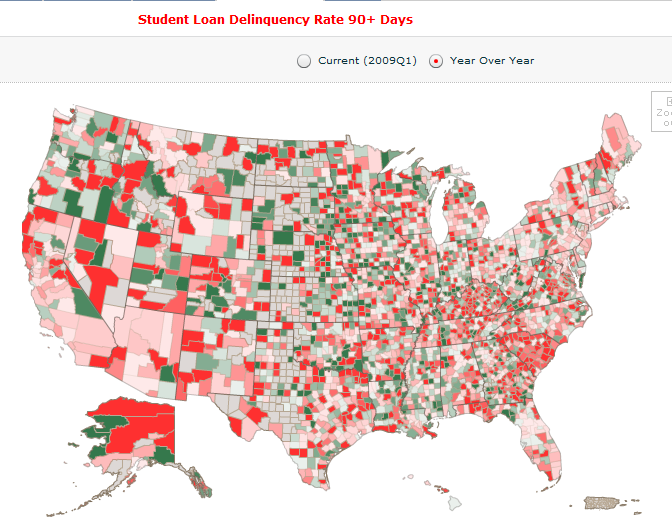 (source: MyBudget360.com)
College Unemployment by Age Group

(source: naceweb.org)
NACE 2011 Student Survey

(source: naceweb.org)
Global & Youth Unemployment
(source: The Economist)
NACE 2011 Internship Survey


(source: naceweb.org)